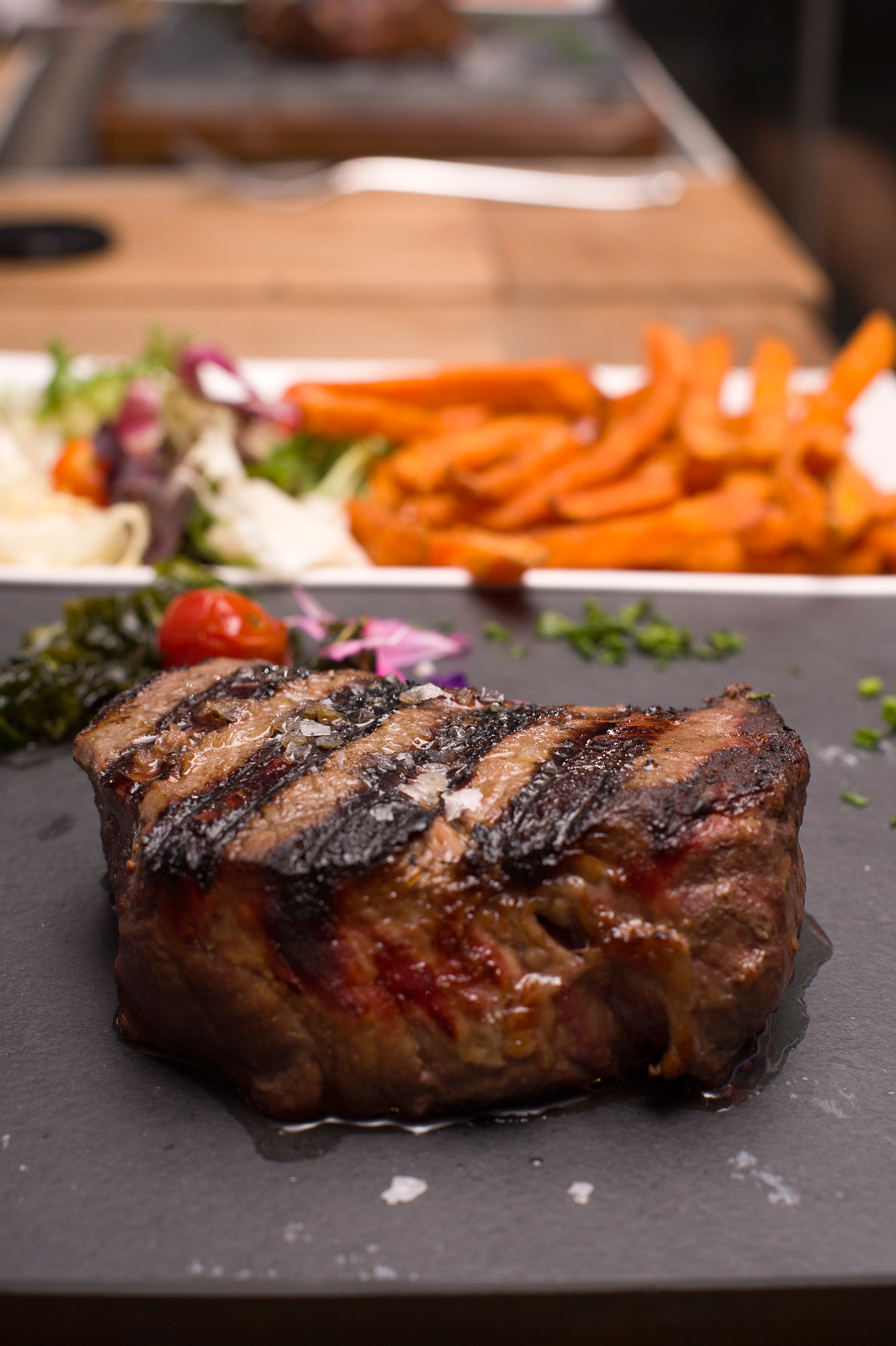 A Treat for the Senses
PASSIONATE ABOUT FOOD × A MUST FOR STEAK & SEAFOOD LOVERS
Grille53 is a cozy, contemporary & unique restaurant located right in the heart of Marina Bay. We pride ourselves on great service and the high quality of our food.
Grille53 opened in June 2015 and is located in the Tower at Marina Bay. Just opposite the famous Sunborn Hotel's bridge entrance. We wanted to bring something different to Gibraltar both aesthetically and at a culinary level. We feel we have achieved a very unique look, which is warm, welcoming and interesting.
We are very proud of our great team of both Chef's & waiter staff, who all work hard day in day out to bring you the tastiest, freshest Steaks & Seafood & friendliest service about. Come on down and give us a try.
Phone
(+350) 200 61999
EMAIL
info at grille53.com
Location
Unit 2B, The Tower
Marina Bay
Gibraltar, GX11 1AA
Hours
Mon-Fri 12pm–11pm
Sat 8am–11pm
Sun 9am–11pm
£

7,95
Croquettes of the Day
Ask one of our staff about todays homemade croquettes
£

9,95
Prawns Pil Pil
Juicy Fresh King Prawns served in an Olive Oil, Paprika & Chilli sauce
£

9,95
Provoleta
Baked Provolone cheese with your choice of : Spanish ham & fresh tomatoes / piquillo peppers & crunchy bacon
£

9,95
Pate Campagna
Homemade Pate on toasties, served with a Pedro Ximenez reduction
£

7,95
Aubergines & Honey
Slices of fried Aubergines drizzled with Honey & served with a side of Hummus
£

9,95
Scallops & Aubergine
Scallops in smoked pancetta blankets with an Aubergine purée drizzled with Pedro Ximenez
£

9,50
Chorizo al infierno
The classic spicy Chorizo
£

6,95 /

£

12,50
Galician Octopus
Fresh Octopus served with potatoes, Paprika & olive oil. Half or full portion available
£

7,95
Bruschetta
Bruschetta seasoned with garlic, topped with diced tomatoes, spanish ham, mozzarella and a drizzle of olive oil
£

6,95
Bruschetta (vegan)
Bruschetta seasoned with garlic, topped with diced tomatoes and a drizzle of olive oil.
£

14,95 /

£

24,95
Spanish Ham & Cheese Platter
A Platter of premium Spanish Ham & Cheese
£

6,95
Mixed Salad
Crunchy Mixed Lettuce, fresh Tomatoes, sliced Egg, Onions Carrot, Tuna & Sweetcorn
£

8,95
Caesar Salad
Crunchy Lettuce with Chicken, Bacon, Apples & croutons drizzled in a Caesar dressing
£

8,95
Caprese Salad
Sliced Buffalo Mozzarella served on a bed of sliced Tomatoes and Basil leaves & seasoned
£

6,95
Morrocan Tomato Salad
Slices of Fresh regional Tomatoes, seasoned with Moroccan Spices, Olive Oil, diced Garlic, Salt & Pepper
£

9,95
Prawn & Avocado Salad
Fresh Prawns with Avocado, drizzled with a Honey Mustard, topped with Parmesan biscuits
£

6,95
Soup of the Day
Please ask a member of staff for todays fresh seasons home made soup
£

24,95 /

£

44,95
Chateaubriand (serves one or two)
Tenderloin fillet grilled & then carved into succulent tasty slices
£

24,95
New Zealand Fillet Steak
A tender & juicy Beef tenderloin cut from New Zealand grain fed cattle (approx 250g-300g)
£

28,95
T Bone Steak
This hearty 500-600g cut is "two steaks in one", the full flavor of the New York Strip and the impeccable tenderness of the Fillet, joined together by the famous "T" bone
£

22,95
Entrecote
Widely considered to be the tastiest, juiciest cut of meat due to its high marbling content and on the bone cut (approx 300g-400g)
£

44,95 / kg
The Tomahawk (serves two)
A whopping, succulent and taste laden on-the-bone french trimmed Ribeye steak. Cooked bone-in to release extra flavour and boost the rich mellow sweetness of this cut. A real treat!
£

23,95
Rack of Lamb
Roasted Rack of Lamb in its own succulent juices
£

18,95
Beef or Chicken Skewers
Juicy pieces of Sirloin Beef on a skewer with Vegetables, grilled & seasoned
£

13,95
Grilled Chicken Breast
Tender grilled Chicken Breast
£

16,95
Chicken Teriyaki
Tender chicken strips in a Teriyaki marinade
£

13,95
Pork 'Carillada'
Iberian Pork Cheeks cooked in a Red Wine Sauce
£

22,95
Leg of Lamb
A tender juicy roast leg of Lamb in a Rosemary confit
£

16,95
Tulip of Iberian Secret
Iberian 'Secret' Pork, thinly sliced, grilled & served in a Pedro Ximenez sauce with Caramelised Onions
£

16,95
BBQ Ribs
A grilled rack of Ribs glazed in a BBQ sauce
£

11,95
Callos
A traditional Spanish stew of chickpeas, chorizo and beef tripe
£

18,95
Steak & Onion Burger
Juicy sirloin steak topped with caramelised onions & peppers
£

18,50
Fifty Three Burger
300g of minced fillet of beef, served with crispy Bacon, fried Egg, Cheddar Cheese, Red Onions, Lettuce & grilled Tomato
£

16,95
Chicken Burger
Chargrilled Chicken breast served with crispy fried Onions, topped with a Brioche bun
POA
Fresh Fish of the Day
Ask a member of staff about todays' fresh catch
POA
£

17,95
Cod Ajoarriero
Fresh fillet of Cod, cooked in a Tomato, Almond, Garlic & Olive Oil sauce
£

18,95
Squid Rings
Fried - Sliced into rings and fried in a light, crispy batter or Grilled - Partially sliced into a semi-circle
£

18,95
Fresh Tuna Steak
250g grilled fillet of fresh line caught Tuna
£

24,95
Monkfish Fillet
Fillet of Monkfish cooked in a Garlic sauce with Prawns
£

16,95
Salmon Fillet
Grilled fillet of Salmon
£

15,95
Grilled Sole
Grilled fillet of Sole
£

21,95pp
Parillada
An indulgent meat lovers treat. Chateaubriand, Secreto Iberico, Chorizo, Chicken Churrasco & Black pudding
£

17,95pp
Seafood Platter
A selection of seafood, Squid Rings, Prawns, Kingklip (Rosada), John Dory & White Fish
£

11,95pp
Vegetable Parillada
An assortment of fresh & seasonal charcoal grilled Vegetables
* Please allow extra preparation time, minimum 2 people.
£

12,50pp
Mixed Paella
A delicious homemade Paella dish with Chicken & Seafood
£

14,50pp
Seafood Paella
A delicious homemade Paella dish with Seafood
£

15,50pp
Seafood 'Black Rice' Paella
A delicious homemade Paella dish with Black Rice & Seafood
£

12,50pp
Chicken Paella
A delicious homemade Paella dish with Chicken
£

10,50pp
Vegetarian Paella
A delicious homemade Vegetable Paella dish
£

16,50pp
Arroz Caldoso
A hearty rice dish with seafood
£

26,50pp
Red King Prawn Caldoso
A rich broth with rice seafood & red king prawn
£

14,95pp
Fideos Caldoso
Delicious Tomato based caldoso with Seafood & noodles
£

15,00pp
Paella 'Secreto'
Paella dish made with Secreto Iberico
£

18,00pp
Paella de Pulpo
A delicious homemade paella dish with fresh Octopus
£

10,95
Choose your Pasta & Sauce
Spaghetti / Penne / Fusilli Arrabiata / Bolognese / Carbonara
£

15,95
Pil Pil Pasta
Prawns in a Pil Pil sauce served with your choice of pasta
£

7,95
Junior Burger
A kids size Beef Burger with your choice of Mustard, Mayo, or Tomato
£

7,95
Spaghetti Bolognese
Spaghetti Pasta with a Beef & Tomato sauce
£

7,95
Breaded Chicken
Chicken Breast in breadcrumbs grilled and served with chips
£

7,95
Chicken Goujons
Tender chunks of Chicken coated in batter
£

2,00 each
Sides
Homemade Chips, Sweet Potato Fries, Rice, Potatoes 'a la Pobre', Jacket Potato, Zuccini Fries, Potato Purée, Grilled Vegetables, Sauteed Spinach, Garlic Mushrooms, Bread & Olives
£

1,00 each
Sauces
Peppercorn Sauce, Roquefort Sauce, Pedro Ximenez Reduction, Mushroom Sauce, Garlic Butter cream, Fresh Mint Sauce, Gaucha Sauce, Ketchup or Mayonnaise
Mini salmon teriyaki brochettes / Hummous / Secreto Iberico with Pedro Ximenez
Crunchy lettuce, anchovies & roasted pepper salad with a roquefort dressing
Mushroom croquettes on a bed of kinch mayonnaise
Cream of celeriac soup with a truffle oil dressing
Medallions of Pork tenderloin in a bacon & date dressing, served with a cauliflower puree and wok sauteed vegetables
Grilled Entrecote served with grilled mushrooms, cherry tomatoes and home made chips
Prawns & fresh Spinach cream linguine topped with sweet gorgonzola
Grilled Salmon on a bed of taboule & asparagus
Chicken breast stuffed with mushrooms, garlic butter, breadcrumbs & parsley, topped with bacon strips, served with Potatoes & sauteed vegetables.
Fresh seasonal fruit salad
£

12,50
Mommessin Sauvignon Blanc – Burgundy, France
Citrus and Peach fruit with gentle grassy notes. Crisp and well balanced finish
£

13,00
Pinna Fidelis Verdejo
Aromas of exotic and citric fruits, white flowers and fresh herbs. Full, fresh and balanced. Notes of fennel and apple
£

13,50
Bottega Pinot Grigio - Venezie, Italy
Clear with fine delicate fruity scents. Dry, full and harmonious with a persistent finish
£

15,00
Bottega Prosecco Spumante
Light & fruity with hints of citrus
£

15,00
Viña Albina – La Rioja, Spain
Charm and discrete sweetness with an unforgettable fragrance
£

16,00
Vega Naum Albariño - Rias Baixas, Spain
Combines fruit and floral notes with good intensity and a fresh fruity finish
£

28,00
Jean Claude Boisett Chablis – Burgundy, France
Clean golden colour, with aromas of citrus and fresh berries
£

15,00
Bottega Pinot Grigio Rose IGT Delle Venezie – Italy
Brilliant light pink with an intense, fruity and slightly herbaceous taste
£

15,00
Muga – La Rioja, Spain
Bouquet of exotic fruits, fresh, lively and pleasantly sharp
£

15,50
Pinna Fidelis Rose
Intense fresh red fruit notes of Strawberry & Raspberry
£

22,00
Louis Bouillot Perle d' Noire Rosé
Refined nose with aromas of small berry fruit & subtle notes of red fruit
£

15,00
Corona de Aragon Special Selection
Intense aromas of cherries, raspberries and a hint of paprika
£

17,00
Cune Crianza
Red berry aromas remain over oaky and balsamic notes
£

17,00
Vina Izadi Rioja
Rich aromas of red fruit, liquorice and spices, with a hint of smoke
£

18,00
Ramon Bilbao – La Rioja, Spain
Good acidity and great balance between fruit and alcohol
£

22,00
Pinna Fidelis – Ribera de Duero, Spain
Fleshy and smooth, with blended tannins, very pleasant aftertaste
£

23,00
Terrazas Altos De Plata Malbec – Argentina
A lively mouthful of ripened plums and boysenberry, with chewy tannins
£

29,00
Pesquera – Ribera de Duero, Spain
Intense bouquet with impeccable woody aromas
£

30,00
Matarromera – Ribera de Duero, Spain
Round and fleshy mouth with friendly tannin and an elegant and harmonious finish
£

24,00
Faustino V Rioja
Well integrated aromas, sweet barrels and fruity hints
£

25,00
Cune Reserva – la Rioja, Spain
Nuances of warm leather, caramel and coffee over rich autumn fruit
£

29,00
Alcorta Reserva
Smooth, fleshy and well-structured on the palate, culminating in a lengthy, aromatic finish
£

29,00
Terrazas Malbec – Mendoza, Argentina
Unctuous and ripe tropical fruit core opens into zingy hints of star fruit
£

30,00
Pinna Fidelis – Ribera de Duero, Spain
Intense aromas of black fruits and spices. Round and well balanced
£

33,00
Muga – La Rioja, Spain
Round, very tasty & with an elegant, lingering finish
£

35,00
Finca Villacreces Ribero del Duero
Full-bodied, full-flavored, plush wine with layers of spicy black fruits
£

64,00
Matarromera - Ribera de Duero, Spain
Aromas of ripe fruits, milk & spice. Rich with tannins & well balanced
£

41,00
Abadia Retuerta Special Selection
Delicious finish of ripe red fruits & oak embedded in velvety tannins. Superbly balanced structure that leads to a fine persistent ending
£

45,00
Muga Speciel Selection
Intense aromas of red fruits, spices and oak. Full bodied with good acidity, notes of cherries, plums and spices
£

54,00
Tr3smano - Ribera del Duero, ES
Cherry red in the glass. On the nose, notes of ripe red fruit and new wood adds complexity with toasted and smoked notes and peppery spices
£

118,00
Matarromera Gran Reserva - Ribera de Duero, ES
Elegant and well-structured wine, full of fruity aromas with a long smooth finish. Enveloping texture and harmonious structure
£

145,00
Vega Sicilia Valbuena – Ribera de Duero, ES
More of a Merlot than Cabernet Sauvignon grape, hint of ripe red fruits in the mouth, with a long and complex finish
£

29,00
Bottega Gold Prosecco
Elegant bouquet of berries with floral and creamy oak notes
£

29,00
Bottega Rose Gold Prosecco
Distinct flowery aromas and scents of mixed berries and strawberries
£

51,00
Taittinger Demi-Sec
Delicate hints of honey and ripe fruit with overtones of elderflowers on the nose
£

53,00
Taittinger Brut Reserve
A delicate wine with flavours of fresh fruit and honey. It exudes aromas of peach, white flowers (may blossom, acacia) and vanilla pod
£

66,00
Taittinger Rose
A vibrant rosé with a vivid aroma of wild strawberries & raspberries
£

3,50 /

£

11,00
Corona De Aragon White (Cariñena)
Hints of lime, grapefruit, banana and pineapple with a very fruity taste but also with a pleasant and persistent acidity
£

3,50 /

£

11,00
Corona De Aragon Red (Cariñena)
Hints of spicy/balsamic notes with a long, fruity aftertaste
Penascal Rose
3,50 / 12,00
Tinto Verano by glass
4,00
Jar of Tinto Verano
14,00
Reservations
If you'd like to make a reservation, you could give us a call on (+350) 200 61999 from 12pm – 12am daily,
or email us at reservations at grille53.com,
you could even send us a Facebook message and we'll get back to you in a jiffy!

Deposits of £10 per head are required for parties of 8 or more. Let us know if you have any specific requests for parties or large groups.